California Republican Assembly Newsletter Feb. 2020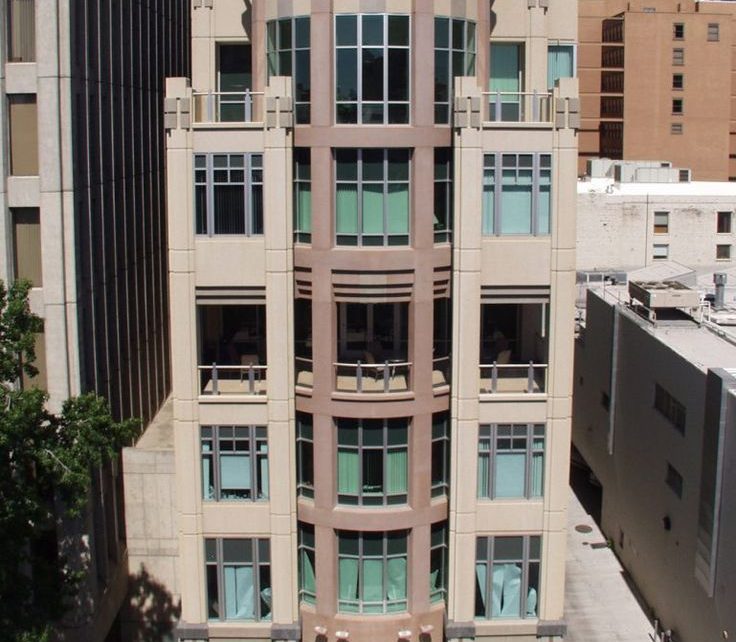 (CALIFORNIA GLOBE) – Last week what is arguably California's most powerful political special interest, the California Teachers Association (CTA), or teachers union, held its quarterly State Council of Education meeting at the plush Westin Bonaventure Hotel in downtown Los Angeles.
The CTA reported revenues of $209 million on their most recent IRS Form 990 (results through 8/31/2018), and their total assets increased from $296 million to $334 million. The CTA's "savings and temporary cash investments" increased from $56 million to $79 million during their most recent year of operations.
Even here in California, these are astonishing sums of money. Moreover, the CTA, operating statewide, only wields about half of the teachers union's financial firepower deployed in California. Additional financial resources come from the CTA's national affiliate, the National Education Association, as well as from the dozens of major local affiliates, such as the United Teachers of Los Angeles.
---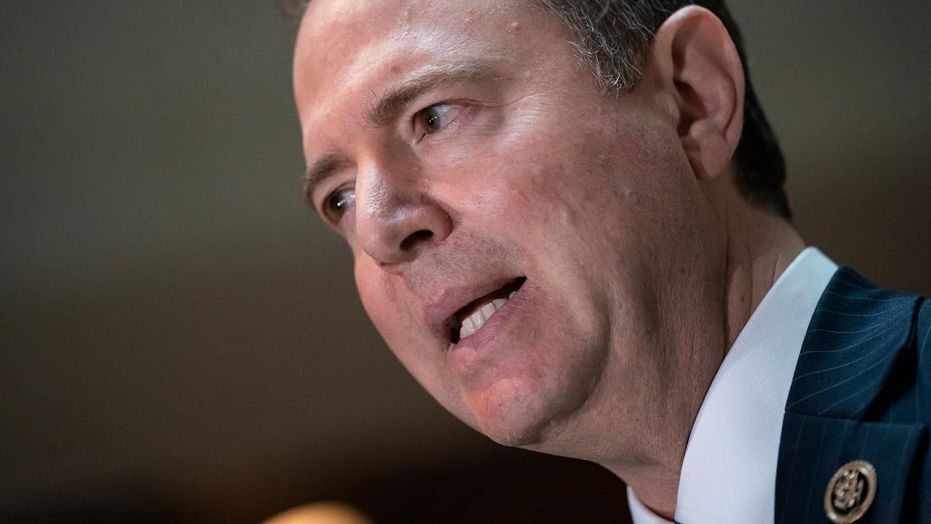 (BLOOMBERG) – President Donald Trump's scrutiny by Congress won't end with his expected acquittal in the Senate. House Democrats have a list of inquiries they plan to pursue when the impeachment saga is over.
"The investigations and oversight will continue," said Representative Carolyn Maloney of New York, head of the Oversight and Reform Committee, the lead investigative panel in the House. "We've got several cases."
---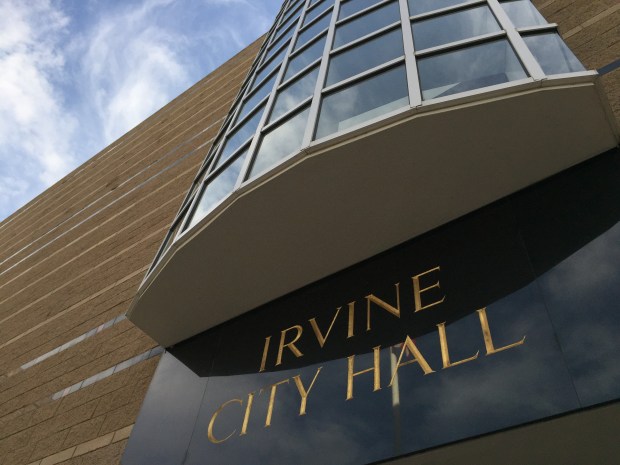 (OC REGISTER) – First, some good news about the public purse:
Irvine continues its streak as the healthiest large city in America when examined through the lens of long-term fiscal health. The debt burden on taxpayers in many other big California cities has lightened over the past year. And no matter how grim things get, no big California burg is dripping the kind of red ink that oozes from New York City.
The not-so-good news: Twelve of California's 15 large cities are still in the red, and for many of them, things have gotten worse, not better.
This is according to the fourth annual State of the Cities report from Chicago-based watchdog group Truth in Accounting, "a nonprofit, nonpartisan organization composed of business, community and academic leaders interested in improving government financial reporting."
---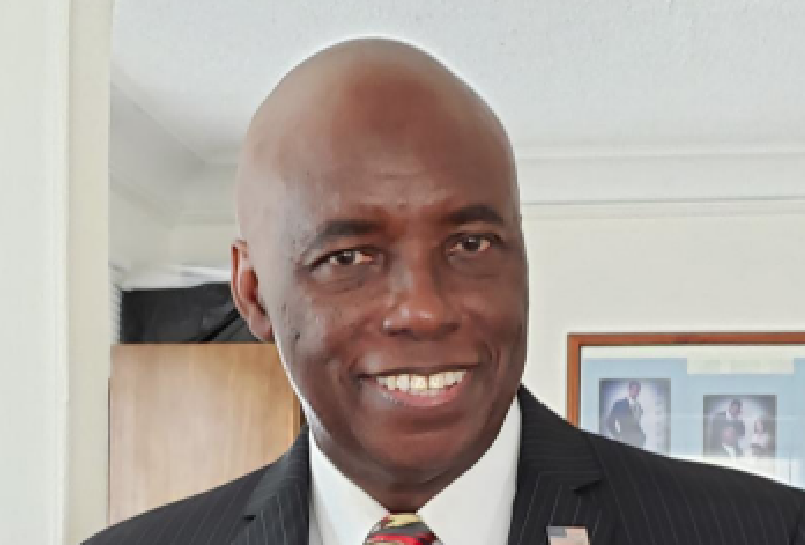 2020 has started off with a bang.
The impeachment trial has concluded, efforts are underway to repeal the states devastating anti-independent contractor bill, AB 5, and the presidential primary elections are upon us.
Impeachment Trial Is Over. Now What?
Now that the intensely partisan impeachment process is finally over, one would think that congress and the president would be free to get back to the people's business. Unfortunately, that would be wishful thinking.
Despite coming up empty handed after three years of investigations, Democrats are already vowing to continue impeachment probes. It is clear that they will not stop until President Trump is out of office (which will likely be in 2024.)
Fortunately, our president has already shown that even amidst the constant barrage of attacks by the Democrats, he is able to get things done. For example, as the Senate prepared to vote on the articles of impeachment, he was closing the deal on two major international trade deals and delivered a rousing State of the Union address.
It is important that we keep the president in our prayers and continue to spread the word about how he is winning for us.
Efforts Mounting to Overturn AB 5
Rarely has California witnessed such a massive bipartisan rebuke of a Democratic policy as there has been in regards to AB 5. With hundreds of stories of job cuts and businesses pulling flexible opportunities from California's workforce because of this new law, protests have erupted among Republicans and Democrats; blacks, whites, and latinos; and business owners from over 150 different industries.
We need lawmakers that will fix California's serious problems – not politicians who are beholden to the unions and make Californians' lives harder in order to please their campaign supporters. To that end, the CRA Board of Directors has officially adopted a resolution calling for the repeal of AB 5.
We are encouraging everyone to contact their state legislators and demand that they support measures like AB 1928 (Kiley & Melendez) which completely overturns AB 5. It is important that you join us in this effort to return some sanity to California's independent contractor law.
2020 Elections Are Underway
Primary season is here. And despite the fact that the GOP nomination is in good hands with President Donald Trump, there is still much for us to accomplish. All 80 seats in the State Assembly, half (20 seats) in the State Senate, and all 53 congressional seats are on the ballot. It is incumbent upon Republicans to see that as many of our candidates as possible make it to the general election in November.
Californians deserve a real choice. We must show up and vote to ensure that our values are represented on the general election ballot in every part of the state. So, please make it a point to not just vote, but encourage every like-minded conservative you know to vote as well.
To help you in this process we have included a list of CRA endorsed candidates for you to support.   
Thank you for all of your hard work. Let's make sure this election season is one for the ages!
---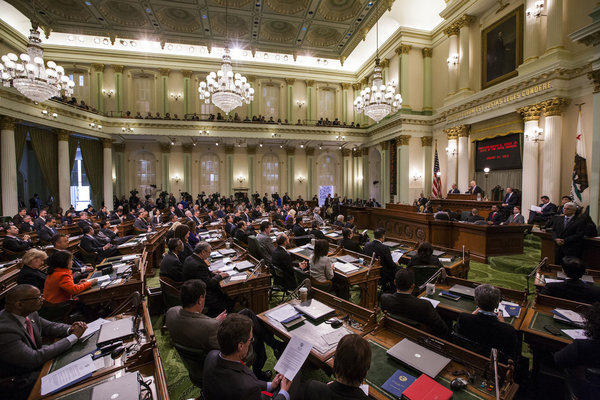 California's 2019-20 Legislative Session is back in full swing. And as the deadline to introduce new bills approaches, Democrats have made it clear that they have no shortage of bad bill ideas.
One measure already introduced, SB 917 (Scott Wiener, D- San Francisco) would convert the troubled Pacific Gas and Electric Co. into a public utility; As if the State has proven it could bdo any better. Another bill, AB 1839 (Rob Bonta, D- Alameda) is the California version of The Green New Deal; a series of socialist economic reforms masquerading as environmental policy. Then there's a bill that would ban "Virginity Testing", AB 1909 (Lorena Gonzalez, D- San Diego)
However, the beginning of this year's session hasn't been all doom and gloom. AB 1928 (Kevin Kiley, R- Rocklin)was introduced to over turn last year's AB 5, which has put thousands of independent contractors at risk. And then there was the demise of a bill that would have overridden local zoning laws to force high density housing and restrict rural, suburban neighborhoods, SB 50 (Scott Wiener, D- San Francisco)
So, while the legislative year is already off to a raucous start, it is far from over. Legislators have until Friday, February 21st to introduce new bills. So, get ready to make your voice heard.
SIGN UP HERE to receive CRA's Email Alerts.
---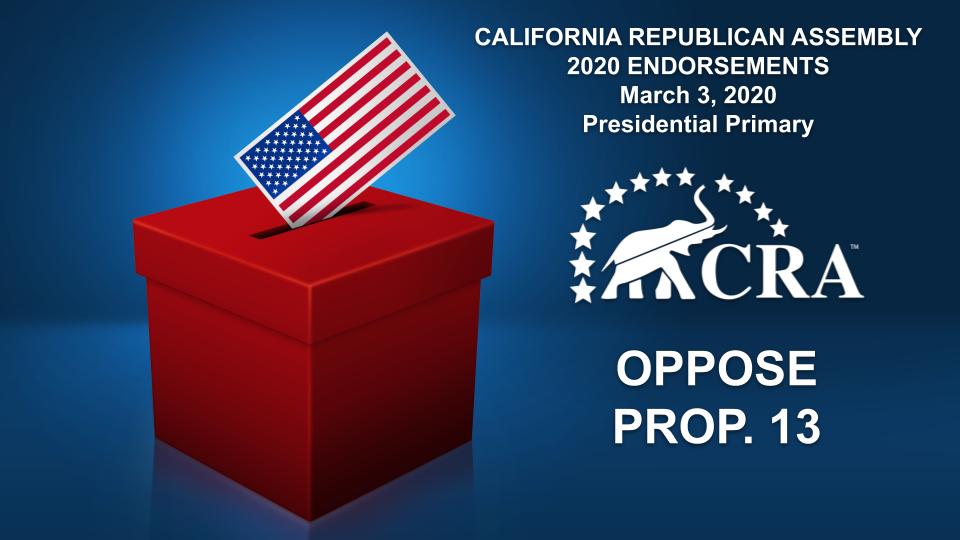 Proposition 13 would authorize $15 billion in state general obligation bonds for the construction and modernization of public education facilities.  It would cost taxpayers approximately $740 million per year for the next 35 years.
(Proposition 13 on the March 3, 2020 ballot is unrelated to the famous Jarvis-Gann "Prop. 13" initiative from June of 1978 that amended the California Constitution to limit property tax increases.)
This gigantic bond measure should be OPPOSED because:
California's current debt level is unsustainable and unaffordable, crowding out government vital services.  This is especially true when the "off the books" costs of unfunded public employee retirement pensions and healthcare benefits are included as part of the state's crushing debt load.  Prop. 13 makes it worse.
Borrowing money to build and repair schools doubles the cost, wasting tens of billions of dollars on interest and other costs.
Future generations will also need new schools and modernization, but those things will be more difficult to afford if they are paying off the fiscally irresponsible borrowing that this measure would authorize.
California has over one thousand school districts but most of them will not receive any funding at all from Proposition 13.  The borrowed funds will not be distributed fairly or evenly to each district, nor even distributed to those with the greatest needs.  Instead, the borrowed funds will generally be awarded only to those districts that have the ability to quickly raise local taxes to produce matching funds.  Recent experience shows that the poorest districts are disadvantaged by this unfair process.  Furthermore, fiscally-responsible districts that reject local tax increases (which tend to be Republican districts) are not likely to receive any funds at all from this measure.
40% of this bond is dedicated to higher education facilities, which should be funded by college tuition rather that the state's General Fund.  It is fundamentally unfair to ask people who cannot afford to attend college to pay even higher taxes to subsidize those who can.  Current subsidies for higher education are already out-of-control, particularly for foreign students.
Proposition 13 would change state law to increase the caps for local borrowing, so that school districts could borrow as much as 4% of local assessed value, compared to the current limits of 1.25% to 2.5%.  Too many school districts have already become insolvent by excessive borrowing under the current caps – yet this measure would make that problem worse by allowing crippling debt.
Proposition 13 represents a gigantic lost opportunity to reform our education system, where irresponsible spending, bloated bureaucracy, corruption, and cronyism have become routine.  Thousands and thousands of education bureaucrats earn more than the Governor of California, causing our schools to claim they do not have funding for routine maintenance.  Before approving borrowing and tax increases, we need to demand reform and accountability.
---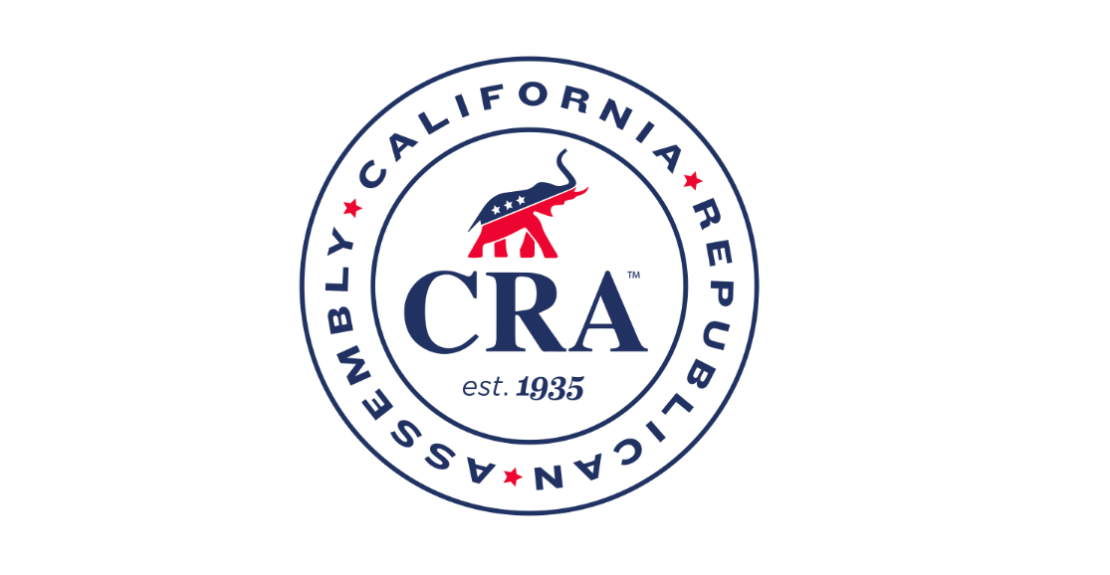 The CRA 2020 Annual Convention will be held from Friday, March 20th to Sunday, March 22nd at the Lamp Liter Inn in Visalia. The confirmed speakers are George Papadopoulos, former member of the foreign policy advisory panel to Donald J. Trump's 2016 presidential campaign; Mark Meuser, 2018 Republican Nominee for Secretary of State; and Lisa Moreno, CRP Central Valley Vice Chairwoman. Additional speakers will be announced when they are confirmed. Saturday includes three breakout sessions for education and training workshops from organizations such as the Leadership Institute.
The convention is jointly hosted by the Porterville Area and the Tulare County Republican Assemblies.
Talk Radio 1680 KGED, a news talk radio station out of Fresno, will be covering the convention as will Craig DeLuz, editor of The California Republican and host of CRA TV.
Convention registration is $75. The complete package is $225 and includes registration, Friday dinner, Saturday meals, and Sunday breakfast. Register online at www.tcra1.org/cra-2020-convention.
Room reservations are handled separately through the Lamp Liter Inn by calling (559) 732-4511. For more information about the Lamp Liter Inn, check out the hotel's website at www.lampliter.net.
For registration questions, please contact Sandi Miller at sandimiller45@gmail.com.
To inquire about advertising at the convention, please contact Sally Blagg at sallyblagg@aol.com.
---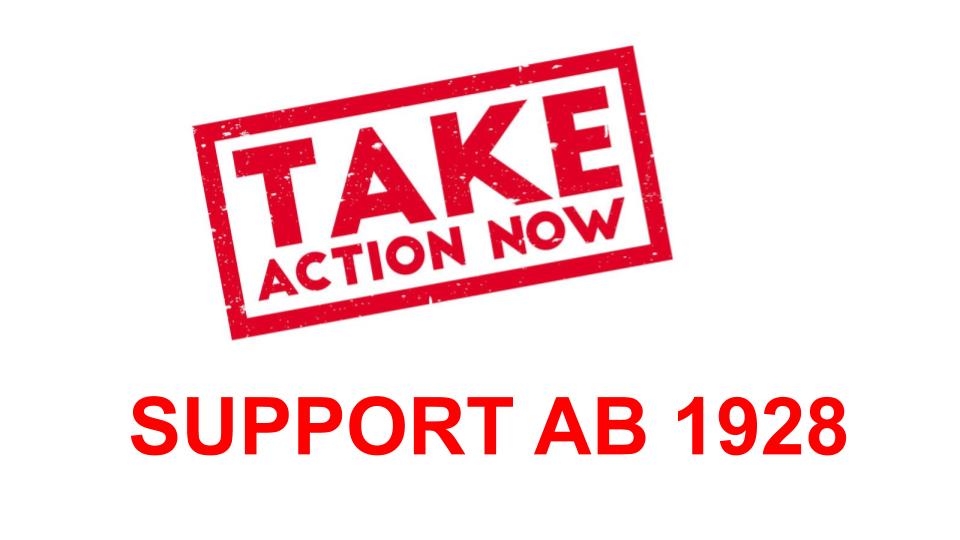 AB 5, passed by the Legislature and signed by Gov. Gavin Newsom last year, took effect on Jan. 1. It strictly limits who is eligible to work as freelancers or independent contractors, and requires others to be classified as employees.
AB 1928 would largely repeal the strict employee definitions of AB 5, and it seeks to do it immediately as an urgency bill.
The bill was introduced Jan. 15, and it could be heard in committee Feb. 15, according to the state's Legislative Information site.
PLEASE TAKE ACTION NOW:
CLICK HERE to contact your legislators and ask them to SUPPORT AB 1928.
Share this page via email and social media, encouraging all those you can o do the same.
Thank you for being a part of the fight!
____
To learn more about AB 1928 CLICK HERE
---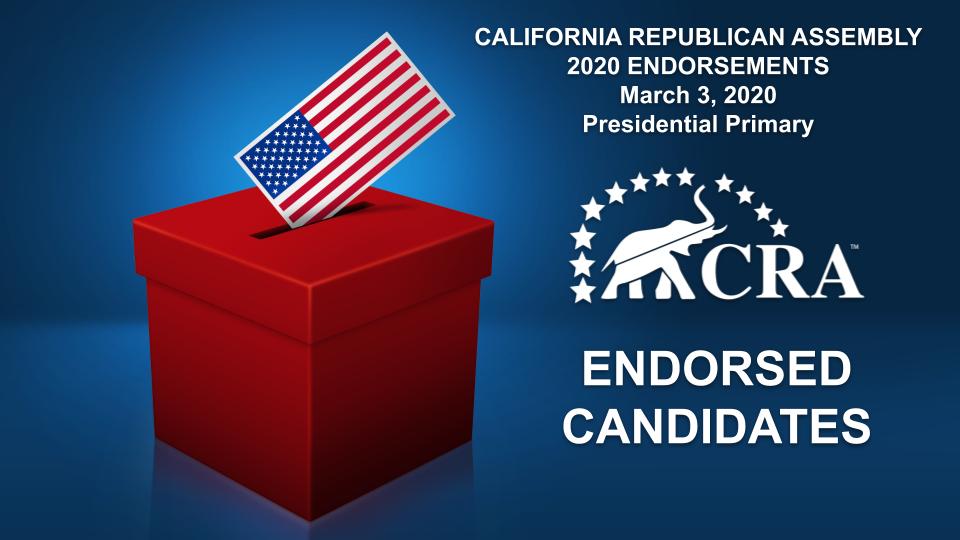 PRESIDENT OF THE UNITED STATES
Donald J. Trump*
UNITED STATES CONGRESS
District 1 – Doug LaMalfa*
District 4 – Tom McClintock*
District 7 – Buzz Patterson
District 8 – Jay Obernolte
District 9 – Tony Amador
District 16 – Kevin Cookingham
District 36 – Milo Stevanovich
District 39 – Young Kim
District 42 – Ken Calvert*
District 45 – No Endorsement
District 46 – James S. Waters
District 47 – No Endorsement
District 48 – Michelle Steel
District 49 – Brian Maryott
District 50 – Brian Jones
CALIFORNIA STATE BALLOT MEASURES
Proposition 13 (School and College Facilities Bond) – NO
CALIFORNIA STATE SENATE
District 1 – Brian Dahle*
District 23 – No Endorsement
District 28 – Melissa Melendez
District 29 – Ling Ling Chang*
District 37 – John M.W. Moorlach*
CALIFORNIA STATE ASSEMBLY
District 1 – Megan Dahle*
District 5 – Frank Bigelow*
District 6 – Kevin Kiley*
District 9 – Eric Rigard
District 33 – Rick Herrick
District 38 – Suzette Valladares
District 42 – Andrew Kotyuk
District 55 – Phillip Chen*
District 65 – Cynthia Thacker
District 67 – Jeremy Smith
District 68 – Steven Choi*
District 69 – Jon Paul White
District 72 – No Endorsement
District 73 – Bill Brough*
District 74 – No Endorsement
District 75 – Marie Waldron*
GREATER SACRAMENTO REGION
Measure E (Community College Facilities Bond) – NO
LOS ANGELES COUNTY
Long Beach Unified School District, District 4 – Davina Keiser
Republican Central Committee, District 38 – Randy Callender
ORANGE COUNTY
Board of Supervisors, District 1 – Andrew Do*
Board of Supervisors, District 3 – Don Wagner*
OC Board of Education, District 1 – Jim Palmer
OC Board of Education, District 3 – Ken Williams*
OC Board of Education, District 4 – Tim Shaw
PLACER COUNTY
Board of Supervisors, District 3 – Mike Murray
Board of Supervisors, District 4 – Suzanne Jones
Measure A – NO
Measure B – NO
Measure C – NO
Measure D – NO
RIVERSIDE COUNTY
Board of Supervisors, District 3 – Joseph Scarafone
SAN BERNARDINO COUNTY
Board of Supervisors, District 3 – Dawn Rowe*
* Incumbent
---
CRATV S1 E5: Exposing The Lincoln Project – "Jackasses in Elephant Suits" MSM has been giving a lot of facetime to a group of so-called "Republicans" who are calling for the impeachment of President Donald Trump. Tune in as we expose the group's California connection and reveal their true motives.
---
CRATV is a program of the California Republican Assembly. It's goal is to connect viewers to the issues, people, and organizations impacting California and the nation; as well as giving them a tangible way to help make positive change through conservative values.
Please follow CRA at:
Facebook: https://www.facebook.com/cragop/
Twitter: https://twitter.com/cragop
Instagram: https://www.instagram.com/cra_gop/
YouTube: https://www.youtube.com/channel/UCwVfXGMDz3Wk-uyf-igiVWQ?view_as=subscriber